The No Left Turns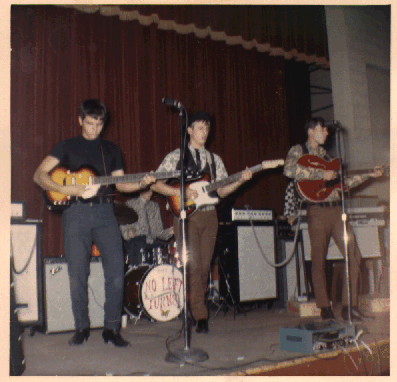 (Click on the photo to enlarge)
---
The No Left Turns
Personnel:
JOE ACCARDI - bass guitar, vocals - A B C
MIKE MEALEY - rhythm guitar, vocals - A B C
TONY MAUHAR - lead guitar, vocals - B C
BRUCE BARTHOLOMEW - drums - A B C
JIM FORRESTAL - Farfisa organ - C
CARL CHEKOURAS - guitar, vocals - A
This southern Wisconsin band originated in 1965 when Joe Accardi, his cousin Mike Mealey and a couple of high school buddies got together to play at parties. The original band (line-up A) was short-lived.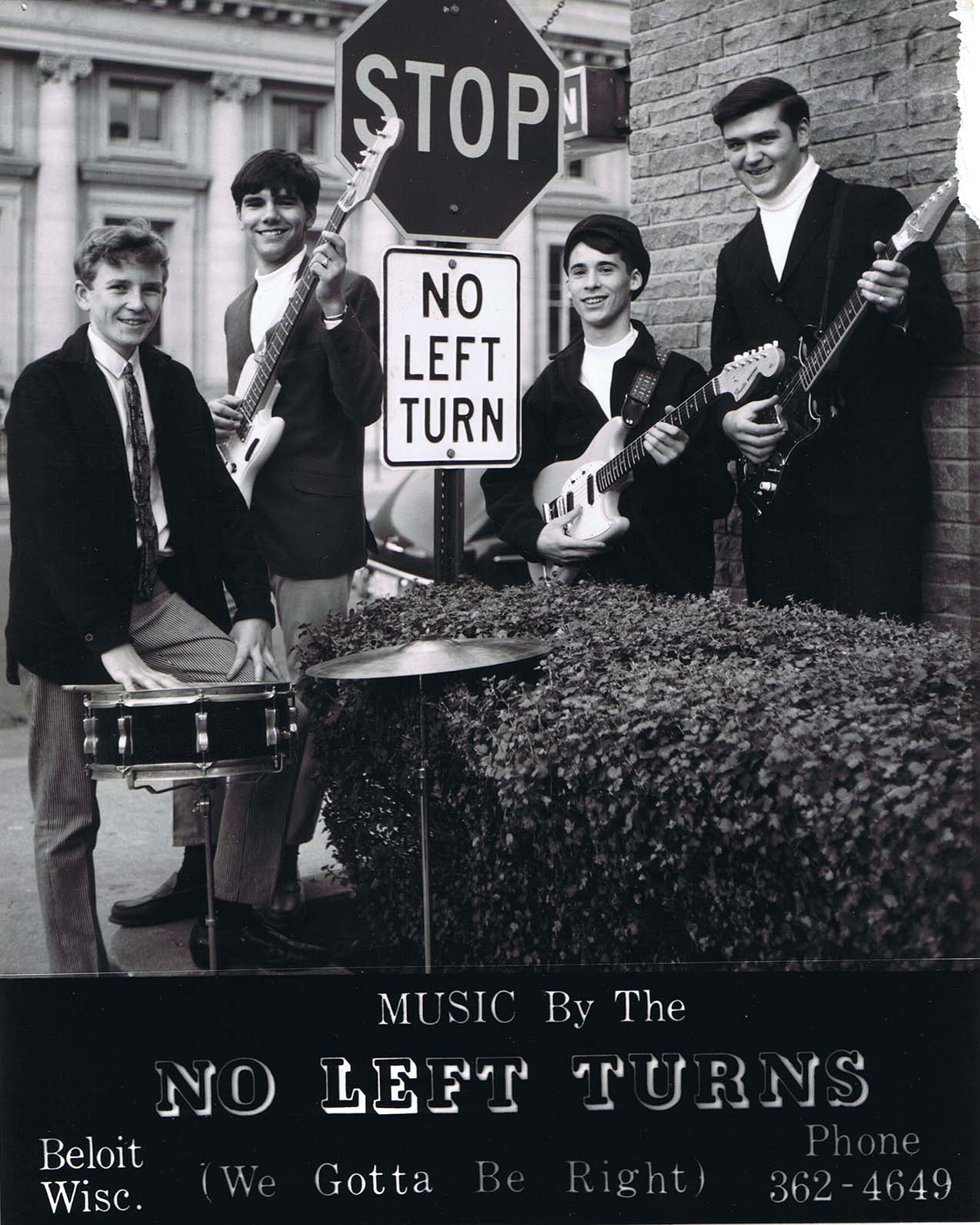 From left: Bruce Bartholomew, Joe Accardi,
Mike Mealey, Carl Chekouras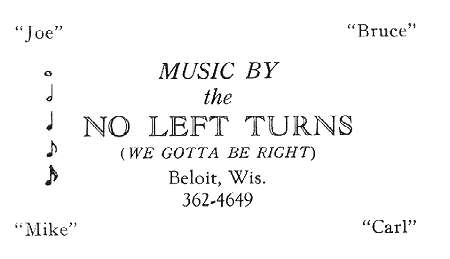 Line-up A Business Card - 1965
Carl, though a very talented musician, had a little stage fright. Not long after the first No Left Turns gig, a less-than-stellar YMCA teen dance, he opted out of the group. He was replaced by another talented musician, Tony Mauhar, who was playing bass for a band with a dubious name, The Klansmen.
With Mauhar now on lead guitar, the band (line-up B) clicked and was soon playing a steady stream of gigs in the Stateline area. They played covers of Top 40 numbers by the Monkees, Rolling Stones, Beatles, and a handful of soul tunes.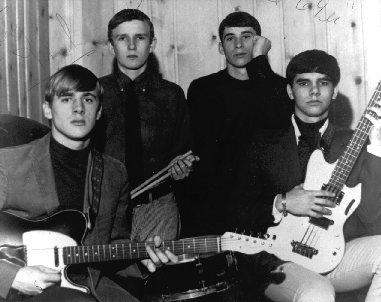 (Click on the photo)
The No Left Turns were heard regularly at high school and teen dances, particularly those held at the American Legion Hall in South Beloit, Illinois under the watchful eye of promoter Fran DeSarbo. A turning point occurred in March 1967, when The No Left Turns won first place in a Battle of the Bands contest sponsored by the Beloit Jaycees and broadcast live on WGEZ, a local radio station. Bookings for the No Left Turns began to increase and Accardi started to look for someone who could play organ to join with them and add to their growing repertoire of songs. At the same time, the band was approached by a booking agent who worked for Ken Adamany Productions out of Madison, Wisconsin. Adamany, and a competing agency, Sperry Ram Productions, had two of the largest stables of local bands in the region. The boys began booking under Adamany [Contract] who distributed a promotional poster for the band created with the help of a professional photographer. (It should be mentioned that among the many bands Ken Adamany represented, one in particular was especially noteworthy. Adamany represented a band from Rockford, Illinois called Grim Reaper. They later recorded under the name, Fuse and then changed their name to Cheap Trick.) More info about the No Left Turns can be found on this page: ADDITIONAL MATERIALS.
In the spring of 1967, Jim Forrestal joined the band (line-up C). An accomplished pianist and master of the Farfisa organ, Jim added another dimension to the No Left Turns who began playing more album and psychedelic covers. One of the first new songs added to their repertoire was an extended version of the Doors' hit, Light My Fire.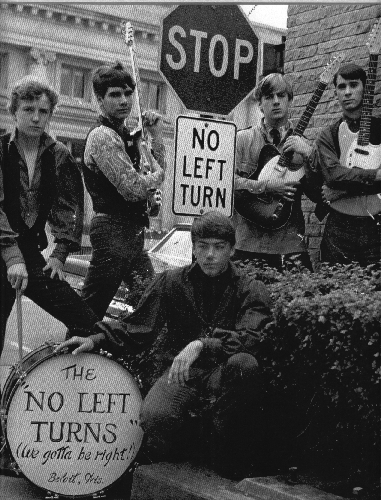 (Click on the photo)
Confined to school and teen dances because of their ages -- they were all still in high school -- Adamany booked the band in small-town halls around the Wisconsin-Illinois Stateline area. The No Left Turns flourished in this milieu until the "winter of discontent" when adolescent disagreements over money, girlfriends and equipment ownership split them apart. The last gig for the No Left Turns was after a basketball game in the St. Jude school gym in Beloit, Wisconsin. By that time their repertoire included songs by Hendrix, the Doors, and the two last songs the band ever rehearsed: Eric Burdon and the Animals' When I Was Young and Sky Pilot.
The No Left Turns made a few rehearsal recordings toward the end of their run on an old AIWA open reel tape recorder that belonged to Accardi. Unfortunately, they broke up at the start of 1968 just at a point where they began talking about ideas for original songs. None of the tapes were preserved.
Not long after the breakup, Accardi and Bartholomew joined another Beloit band called the Jaywalkers whose drummer/lead vocalist had split for greener pastures. The Jaywalkers were a tight band that included Stan Hulla (lead guitar), and Accardi classmates Mike Mertes (rhythm guitar/keyboards), and Dean Herold (bass). Bartholomew took over the drumming and Accardi became the vocalist. The "new" Jaywalkers played a number of memorable gigs around the area including a dance at Boylan High School in Rockford and a two-night stand at the Club 28 tavern in Sheboygan Falls. Being underage, the band was told to stay on the stage and away from the bar. That apparently didn't stop some patrons from buying beer for us, disguising it in soft drink cups. We all crashed in one small motel room not far down the road from the tavern.
Bartholomew left the Jaywalkers in May when gigging had to be postponed while Accardi performed in the Beloit Catholic High spring musical, West Side Story. During that time Hulla was wooed away by a competing band. By the end of May, Mauhar joined the Jaywalkers as lead guitarist to replace Hulla. Previous Jaywalker drummer, Dick Armstrong, also returned to the line-up to form a very talented but short-lived band. Renaming themselves Volume One, after a bookstore in Old Town Chicago's Pipers Alley, Accardi shared front-man duties with another vocalist, Joe Szokody. Volume One played Beloit's popular Club Pop House. The group also placed third in a regional Battle of the Bands sponsored by an area music store. The competition was held at The Meadow, "Janesville's finest psychedelic environment." The group's repertoire included some show-stopping extended numbers: Sunshine of Your Love (Cream), I Love You (The People) and You Keep Me Hangin' On (Vanilla Fudge).
One memorable gig for a teen dance in Fort Atkinson [Contract] saw Volume One involved in a dispute with an adult who cited a new city ordinance prohibiting loud music measuring over 80 or 90 decibels. She demanded that the band stop playing until the amps and PA were turned down to what we considered a mere whisper. When I asked to see the reading on her decibel meter, she balked and said she didn't need one to know what was considered "too loud." During the ensuing argument, another person handed us our check for payment and assured us that we were not playing too loud. But she wanted us to have the check now in case we were asked to leave before the end of the dance. We stayed for the contracted time.
Volume One played a gig at the E.J. Dalton Youth Center in Rockton as a supporting act, alternating sets with Chicago band, the One-Eyed Jacks. Before the gig, the two bands compared set lists and were asked by the Jacks specifically not to play Keep Me Hangin' On and Jumpin' Jack Flash so as not to conflict with those numbers from their set. The Jacks were good (they did a dynamite version of the Beach Boys' Good Vibrations), but Volume One thought their own versions of the two songs in question were better. So for their last set, with nothing to lose, Volume One included those two songs followed by an electrifying version of Purple Haze, bringing down the house. The One-Eyed Jacks were mad but there was nothing they could do. People were seen leaving during the Jacks' final set.
Volume One recorded one of their rehearsals for demo purposes, but it never saw the light of day and has since disappeared. College, military service and other pursuits dashed any chance of full-time musical careers for most of these guys. They split up at summer's end, 1968. While no original photos of Volume One have surfaced, I constructed this image for my own enjoyment... and this web site.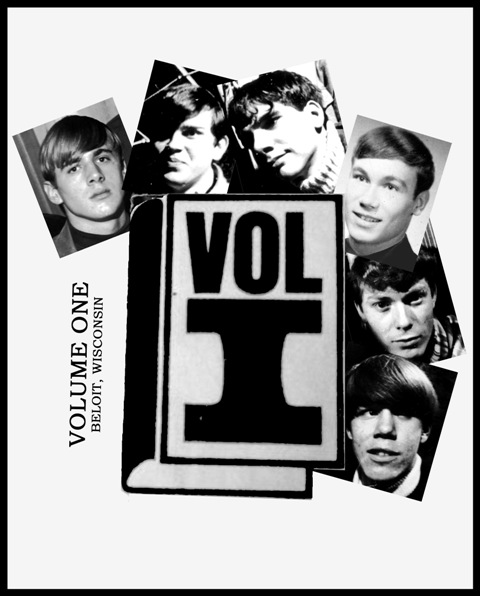 Volume One
Personnel (Clockwise from left):
TONY MAUHAR - lead guitar, vocals
MIKE MERTES - rhythm guitar, Farfisa organ, vocals
JOE ACCARDI - vocals, guitar, tambourine
JOE SZOKODY - vocals, guitar, trumpet
R. DEAN HEROLD - bass guitar
DICK ARMSTRONG - drums, vocals
Copyright © Joe J. Accardi, 1997-2012
---
[Top]

Return to:
[AccardiWeb Home Page]