On December 16, 1967, two young entrepreneurs from Janesville, Wisconsin opened a teen gathering place for music and dancing they called the Meadow. Located in the old Ace High Roller Rink, 2744 West Court Street near the "five-points," John Marling and Steve Fugate wanted to provide a place for Janesville teens to socialize and hear some great music from the abundance of talented bands touring at that time. Their plan included bringing in a national act at least once a month. Promoted initially as "Janesville's 1st Psychedelic Environment," the Meadow's opening weekends featured local bands. The tag line quickly became "Wisconsin's Finest Psychedelic Environment" and was used for the duration of their advertising campaign.
Quarter-page advertisement promoting opening night at the Meadow.
Janesville Daily Gazette
December 14, 1967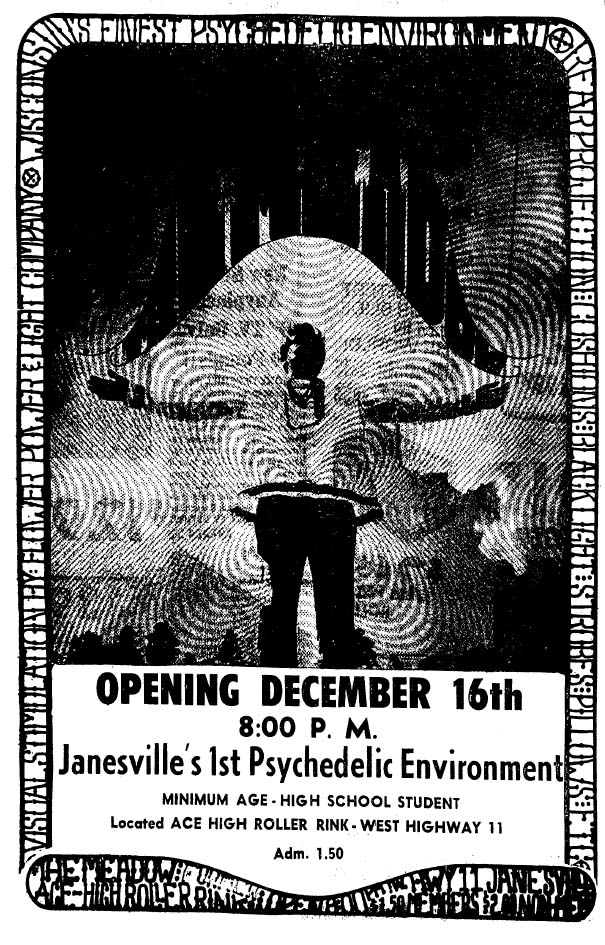 Beau Gentry was the first band to perform at the Meadow. They originally hailed from Indialantic, Florida, but made their new home in Southern Wisconsin and were represented by Madison promoter Ken Adamany. the Paegans from Rockford, Illinois were also represented by Adamany and performed the following weekend. Adamany Enterprises Ltd, Phil Dutcher Talent Associates (Neenah, WI), the William Morris Agency, and the Willard Alexander Agency (Chicago) all provided talent for the Meadow.

The Beau Gentry and the Paegans were primarily cover bands, but each had released singles that were available locally. Members of each band went on to perform nationally and worldwide. Most notably, Beau Gentry members Russ DaShiell and Doug Kilmer recorded and toured with Norman Greenbaum (Spirit in the Sky) and drummer Rick Jaeger with Dave Mason (Headkeeper). Paegans drummer Brad Carlson, became Bun E. Carlos of Cheap Trick.
The Meadow's official "Grand Opening" was on Friday, December 29, 1967 and featured Chicago recording artists, the Mauds. Their regional hit song on the Mercury label, a cover of Sam & Dave's Hold On, I'm Coming, was heard on major top-40 radio stations throughout the Midwest. After breaking up in 1971, the Mauds regrouped in 2000 with original lead singer Jimy Rogers. They continued to perform rhythm & blues around the Chicago area until Rogers' death on December 4, 2010.

The Mauds poster on the left was among those drawn in the San Francisco psychedelic style by Madison artist G. Bergel. (Click on the image for detail.) The poster was stapled to telephone poles all over northern Illinois and southern Wisconsin. A stock poster was designed for the Meadow to use in promoting many of its shows, including the "Opening Night" newspaper ad pictured above. (Poster courtesy of Jimy Rogers and Tom Knoff.)

The first week of 1968 brought back-to-back dances on Friday and Saturday nights featuring bands from Madison. The Grapes of Wrath made two singles on the Cuca record label, Flower Lady and Write Another Song. This popular band played cover tunes along with a few originals. Guitarist Chris Michie later joined Mendelbaum Blues Band and moved with them to San Francisco in 1969.

Robin and the Three Hoods had a local hit with their recording of Bobby Comstock's I Wanna Do It. The song caused some controversy with its suggestive lyrics... "I wanna do it with you, yeah..." This, along with their costumes complete with green tights and feathered caps, made Robin and the Three Hoods a huge success with Midwest audiences . An article about the band was found in the August 14, 1968 issue of Madison's Capital Times newspaper. Robert (aka Robin) Bernhagen continues to write and perform in Sedona, California.

Ben Franklin and the Kites, a five-piece band from Fort Atkinson, and the Beau Gentry completed the bill on the following weekend.
Next Page >>
© Joe J. Accardi, 2010-2011