Giuseppe Accardi (1889 - 1956):
Grandpa's Voice in Song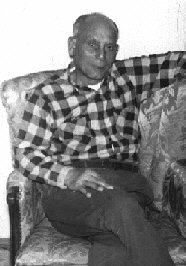 This Web site is dedicated to the memory of my grandfather, Joseph Accardi, who died before I ever got a chance to know him. Giuseppe Accardi was born near Marsala, Sicily in 1889, the son of Giacomo and Rosaria (Lamonica) Accardi. He was a wine inspector for the Woodhouse winery in Marsala when he immigrated to the United States in 1921, partly on the advice of a doctor who was treating him at the time. The musty wine cellars (cantinas) in which he worked made him susceptible to bouts of pneumonia. He was accompanied to America by his wife Anna (1889-1986), father-in-law Nicolo Passalaqua (1863-1941), daughter Rosaria (Sadie) and son Giacomo (Jack, 1920-1976). The journey lasted seventeen days on the Italian steamship San Rossore. They settled in Beloit, Wisconsin where he worked as a core finisher for the Fairbanks Morse Company. He and my grandmother had two more children, Ignazia (Liz) and Nicolo (Nick, my father). Grandpa died in 1956 when I was five years old. Salute, nonno! This article, written by your namesake, is in your honor.


In 1985, while I was director of the Janesville (Wisconsin) Public Library, a library board member asked me if I had a relative named Joseph Accardi from Beloit who sang Italian folk songs on the radio. After thinking about it awhile, I responded that my grandfather used to sing, albeit not professionally, and that he was no longer living. I had learned through various conversations with parents, aunts and uncles over the years that grandpa Accardi would step up to the microphone at weddings and such to belt out a few Neapolitan songs. I had never gotten the opportunity to hear him though.

I asked where she heard these songs. She said they were played as part of a series of ethnic folk music on a Wisconsin Public Radio program called Simply Folk. I was floored. I told her I had never heard my grandfather sing. Moreover, I had no idea that any recordings of him existed... least of all anything that would be available for airplay over public radio!

I quickly phoned my father and asked him if Grandpa Accardi ever made a recording of Italian songs. I explained the circumstances. He thought about it a while, then said he remembered hearing about grandpa getting an invitation to sing for someone from Madison sometime in the 40's. My father was serving in army at that time, so he didn't remember much about the event.

I conducted some preliminary research in 1985, with the help of Judy Woodward (now, Judy Rose), host of Simply Folk, and Joan M. Vennie, formerly of the Mills Music Library at the University of Wisconsin - Madison. It was Ms. Woodward who verified that during the summer of 1946, Joseph Accardi of Beloit, Wisconsin had been invited to record some Italian folk songs for the Library of Congress. This was my grandfather! What a thrill! Ms. Vennie provided me with a cassette copy of the songs my grandfather sang. I made duplicate copies of the recording for my parents and other family members, and was interviewed by the local newspaper.

The following newspaper article was published in the Janesville Gazette on March 14, 1986. The columnist and I chatted on the phone for a while and I sent him a photograph of my grandfather. The writer took a few liberties with my information, which was still quite sketchy at best. Also, my Italian at that time wasn't very good. So, my initial translations for him of what were assumed to have been the song titles were not very accurate. I've discovered correct titles and composers through more recent research and a little better handle on the language.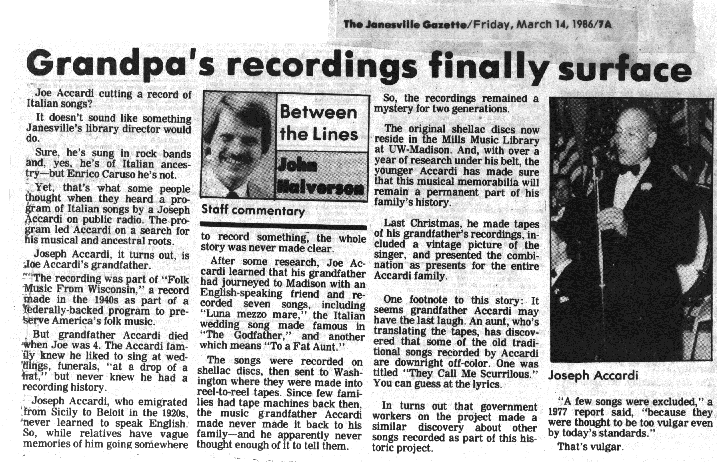 The Library of Congress
My research, which eventually led me to the Library of Congress, introduced me to the Wisconsin Folk Music Recording Project of the University of Wisconsin, initiated in 1939. The Library of Congress and the University of Wisconsin, between 1940 and 1946, cosponsored a field survey of Wisconsin folk music. Developed by Prof. Leland Coon, the project sent faculty adviser Helene Stratman-Thomas, and other collectors into the field to study the ethnic diversity of the state's musical traditions. These recordings included songs from many cultures, including twenty by Italian immigrants around the State of Wisconsin ("AFS 8395-8396; 8424-8426; 8499B1-2; 6 discs containing 20 Italian songs sung by Thomas St. Angelo and Ambrose Degidio of Cumberland; Joe Accardi and Mrs. [Rose] DeNoto of Beloit; and Irene Ruffalo of Kenosha." --from Wisconsin Field Recordings in the Archive of Folk Culture in the Library of Congress American Folklife Center).

On August 21, 1946 Ms. Stratman-Thomas, accompanied by a technician, recorded my grandfather, Joe Accardi, performing the seven Italian songs listed below. He was 57 years old, though the recording notes say he was 47. A family friend, Rose DeNoto, accompanied him to the session where she recorded three Italian songs (Torna a Surriento, Rimpianto, and Signora Fortuna). The performances were recorded directly to shellac discs and later transferred to tape. They are among nearly 700 songs in twenty languages recorded by Ms. Stratman-Thomas during the 40's and deposited with the Archives of American Folk Song in the Library of Congress. She kept a journal of her recording project in which she describes the session with my grandfather in one of her entries.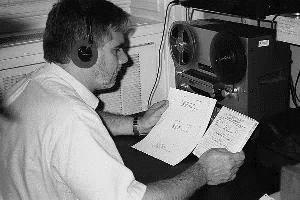 On July 1, 1998 I visited the American Folklife Center at the Library of Congress in Washington, D.C. There I met Reference Specialists Judith Gray and Ann Hoog. They provided me with a copy of the recording session notes prior to my visit, retrieved a reference copy of the recordings for me to hear, and were most helpful in my continuing research. To see my grandfather's name in the American Folklife card catalog was exciting, but not nearly as much as being able to hear the recordings in the building where they are preserved. I am most grateful for the opportunity to have met them and to have studied in the Center. Grazie!

The Songs
I mentioned that I had obtained cassette copies of these songs thanks to the Mills Music Library at UW-Madison. I found out later my Aunt Sadie has 78 RPM disc copies and several pieces of sheet music from the recording session. Here are the songs performed by my grandfather, Joseph Accardi, as recorded by Helene Stratman-Thomas on August 21, 1946. One of the songs Grandpa sang, 'A Vucchella, was noted in one source as Caruso's favorite Neapolitan song and can be found among current re-issues of his recordings. It was one of the songs featured in the film, The Great Caruso, starring Mario Lanza in the title role. The seven titles as she noted them (with my corrections in parentheses) are:

Reginella, L. Bovio
Mi chiamano sciurillo, ('A Vucchella, P. Tosti)
Cosa chera nel fior, (Malia, P. Tosti)
Luna mezz'o mare, Paolo Citarella
'A Tazza 'e cafe!, G. Capaldo
A Za Ciccha, ('A Gatta d'a Zza Cicca, Naso-Gallo)
Tic-ti, tic-ta, F. Feola
(Note: These songs have been provided for research and education only. They are not to be reproduced for commercial or profit enterprises of any kind.)

Final Notes
Grandpa had a large collection of 78 rpm discs, including recordings of Enrico Caruso and Mario Lanza, still in the possession of my aunts. I borrowed a number of them for my continuing research, which I have listed in a database entitled Grandpa's 78 rpm Records. The discs are no longer in my possession.

In 1996, my wife and I made our first trip to Italy, on a walking tour with The Italian Connection. Our guide, Anita Iaconangelo and her partner, chef Emanuele Lorusso, were instrumental in motivating me to create and preserve this tribute to my singing grandfather. In 1999 we made a trip to Sicily, where we met many of my relatives for the first time. I thank my parents and relatives for their encouragement and contributions. I have only a sad recollection of Grandpa Accardi. It is of my father holding me up in his arms at the funeral visitation so I could wave and say good-bye to grandpa as he was "sleeping" in his casket. With this tribute I say hello, grandpa, and thanks for leaving us your voice in song!

E-Mail to: JAccardi (at) Alumni (dot) ND (dot) EDU
Entire contents copyright © 1996-2010 by Joe J. Accardi

Back to Prima Pagina