On Wednesday night, June 19, bubblegum rockers the Ohio Express hit the Meadow. It's now well-known that the Ohio Express who recorded the song Yummy, Yummy, Yummy, I've Got Love In My Tummy was just a group of New York studio musicians who were assembled specifically to market a hit song. The song reached #4 on the Billboard chart. A touring group was formed that had no members from the original recording session. According to Meadow co-owner Steve Fugate, the band was terrible. "They didn't even know their own song." he said in Janesville Gazette article dated July 27, 1968. "They didn't bring their own equipment -- they just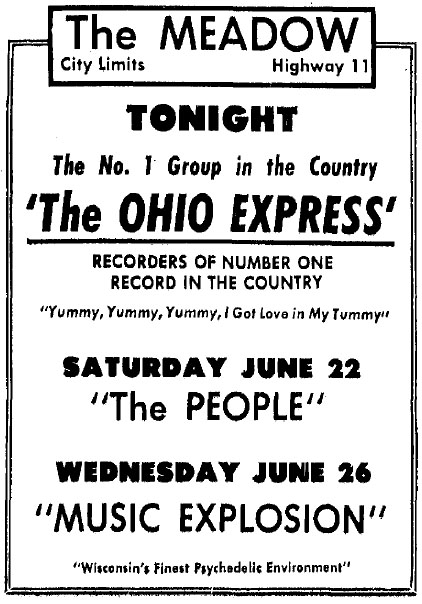 expected to play with the break band's equipment."

Not to be confused with the California group People! who had the 1968 hit song I Love You, this band was The People from Green Bay. They released a single on the local Tee Pee label later that year with cover versions of I Can't Stand It b/w Ode To Billy Joe. Thanks again to Gary Myers for clearing up the confusion. According to Fugate, Tiny Tim (Tiptoe Through the Tulips) had been scheduled for this date but he cancelled, deciding to perform concerts in larger venues and raising his price from $1,000 to $6,000.

The Music Explosion hailed from Ohio and had a hit record, Little Bit Of Soul, in 1967. The song peaked at #2 on the Billboard chart. In a feature article about the band, Gary Rettgen of the Capital Times reported that the Music Explosion made Madison their home while touring around the Midwest. Band members talked with Rettgen about their rise to fame and how the military draft affected their personnel. But their gig at the Meadow almost didn't happen. In the July 27 Gazette article, Fugate and Marling said the band was two hours late after their bus had been sent by mistake to Turner Hall in Watertown where they had been since three o'clock that afternoon. By the time the Music Explosion bus finally arrived at the Meadow, it was ten o'clock. They didn't have time to set up their equipment, opting instead to use the break band's gear. Sound quality suffered, resulting in a disappointing show.

The Ohio Express, the Music Explosion, and the Messengers, each of whom performed at the Meadow separately, were also part of a tour package appearing together in dance halls and county fairs around the Midwest that summer.